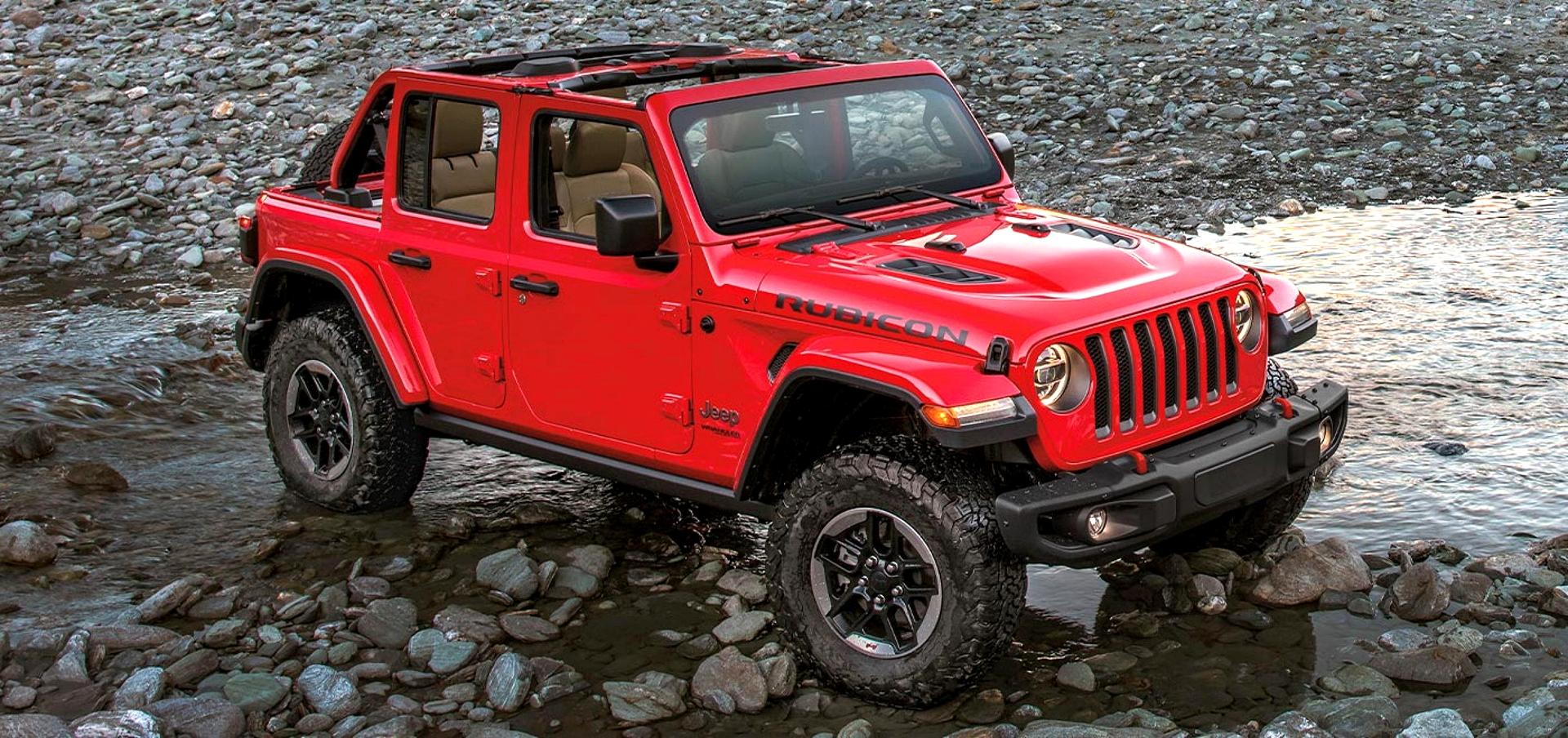 Jeep Wrangler 2023
AED 189,900 - AED 400,000
Car History
Jeep is an American automotive brand that has been producing durable off-road vehicles for over 80 years. Jeep is a well-recognized brand in the UAE, with a wide range of vehicles offered to buyers. There are now 8 Jeep models available in the UAE market. It was designed and produced by the American automaker Willys-Overland as a rugged and dependable military vehicle. The civilian version of the Jeep, known as the CJ (Civilian Jeep), was introduced and quickly gained popularity in the UAE and other Middle Eastern countries. The CJ was especially well-suited to the harsh desert conditions of the region, and its off-road capabilities made it a favorite among outdoor enthusiasts and adventurers. The CJ was replaced by newer models of the Jeep, including the Wrangler, which was introduced in 1986. The Wrangler continued the Jeep tradition of rugged, reliable off-road vehicles, and quickly became popular among off-road enthusiasts in the UAE. Today, the Jeep Wrangler is still a popular choice for those who enjoy off-road adventures in the UAE. Its combination of rugged design, impressive off-road capabilities, and advanced technology make it a top choice for those who want to explore the desert and other challenging terrain.
Jeep Wrangler Review
The Jeep Wrangler has 3 variants; Sport, Sahara, and Rubicon with its most affordable variant, Sport priced at AED 189,900, making it an appealing alternative for adventure enthusiasts on a budget. Whereas, Sahara and Rubicon are available with a starting price of AED 239,900 The Jeep Wrangler Rubicon 392 is a new model with a 6.4L HEMI V8 engine producing 470 horsepower and 470 LB-FT of torque. It can accelerate from 0 to 60 mph in 4.5 seconds and complete a quarter-mile in 13.0 seconds. The Rubicon 392 has an Electronic Sway Bar Disconnect, which allows for huge articulation of the front tyres, as well as a Ramp Travel Index of 730, which gives it excellent off-road ability and suspension travel. The Rubicon 392 is equipped with branded FOX aluminum-bodied 2-inch diameter shocks that improve performance by using race-proven dampening control to deliver an easy on-road ride and stable handling even in the most difficult off-road conditions. The Jeep Wrangler Rubicon 392 has 33-inch all-terrain tyres wrapped around 17-inch beadlock-capable wheels, making it fit for any terrain.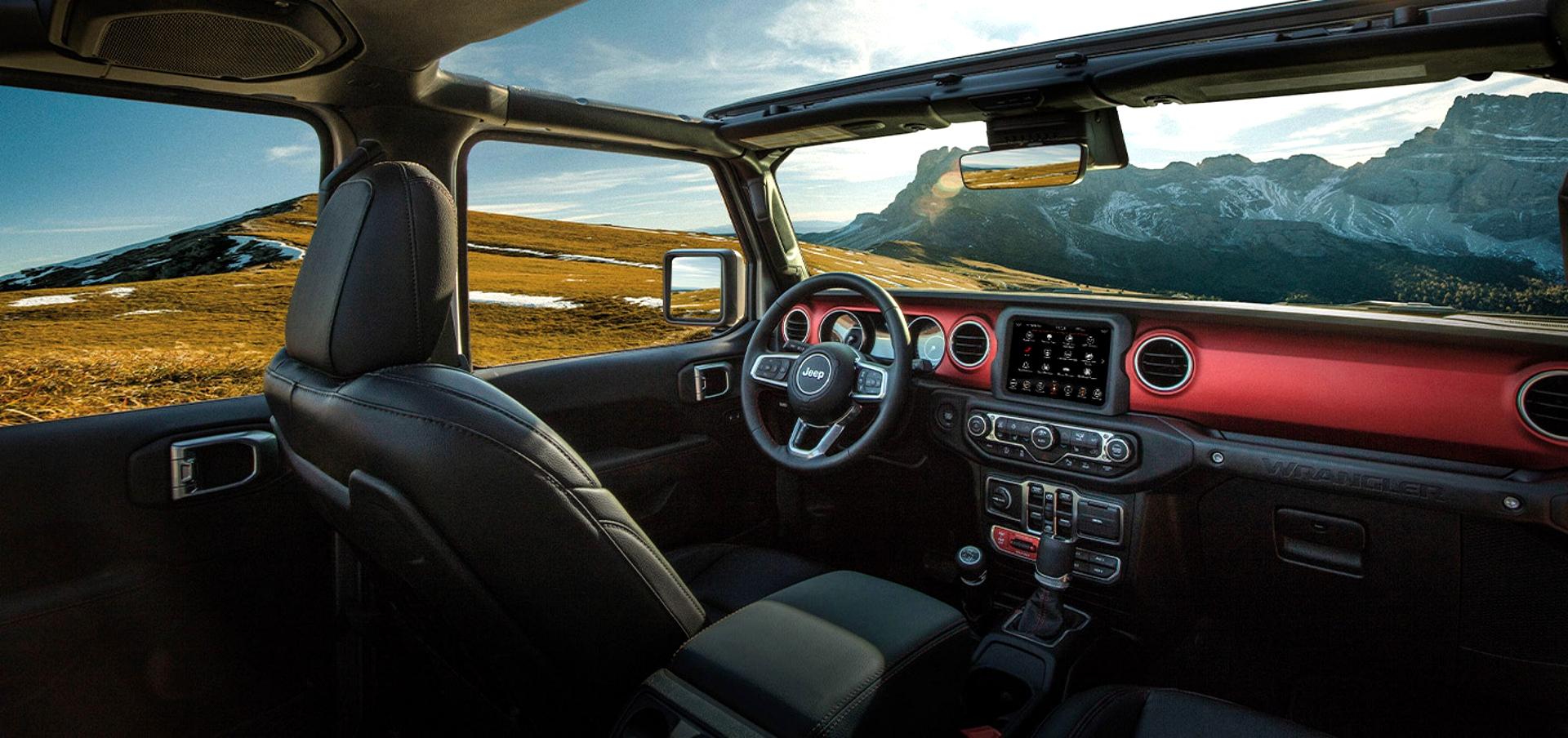 Interior Review
The interior of the Wrangler is simple to clean, thanks to weather-resistant detachable carpet and floor drain valves. It also comes with an amazing technology package that includes a 4G LTE Wi-Fi hotspot, a voice-command accessible Uconnect® system with an 8.4-inch touchscreen, adjustable settings, and the option of Uconnect® 4C NAV with Navigation. Its Forward-Facing Off-Road Camera and 7-inch Driver Information Digital Cluster Display further enhance its capabilities.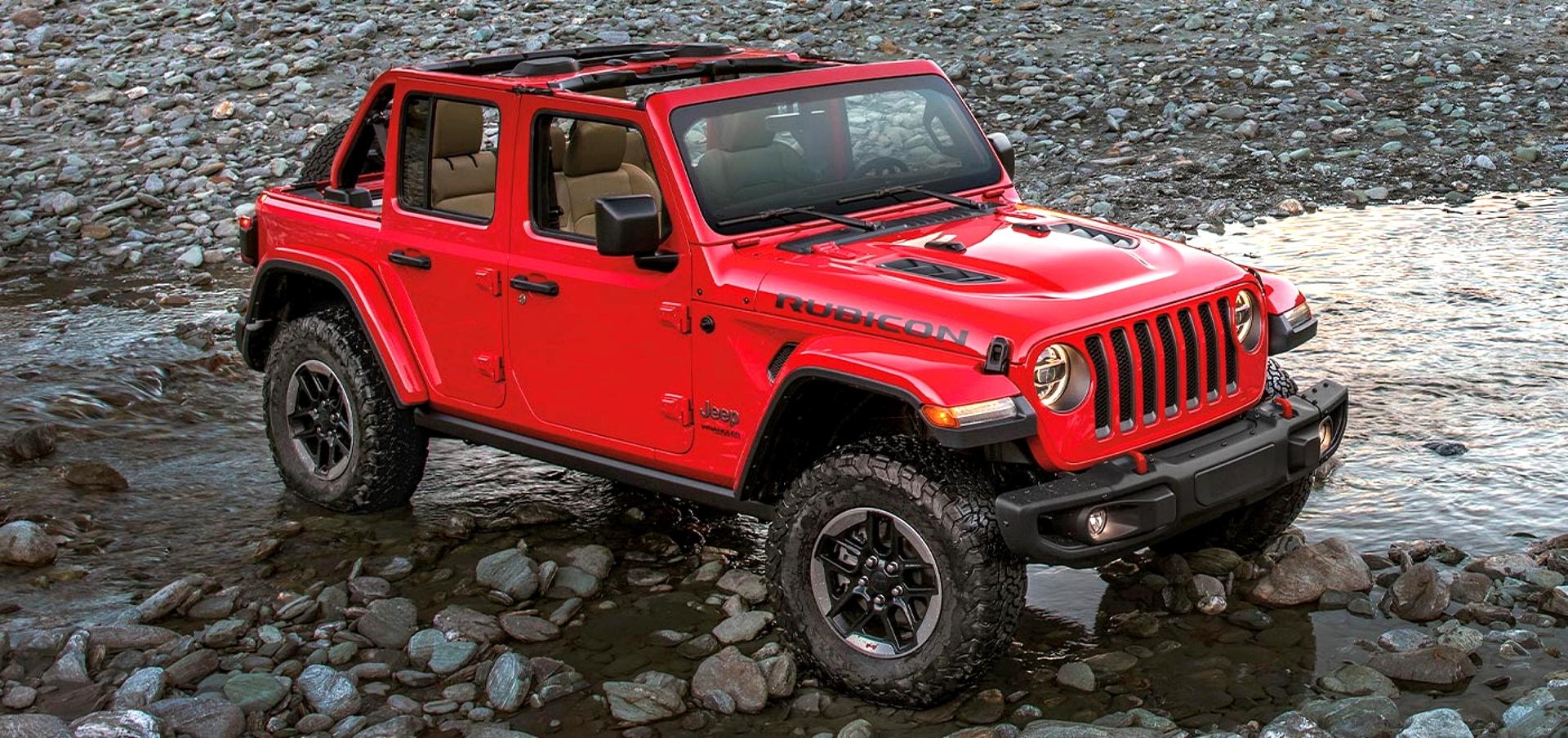 Exterior Review
The Sunrider for hardtop gives easy access to fresh air and sun while offering the premium weather protection of a high-strength hardtop. The Wrangler Rubicon 392 is also available with half doors. MOPAR DOOR-OFF MIRROR KIT and a windscreen with Gorillas Glass are available 2023 modifications that give resistance to cracks and off-road debris on trails. The optional Premium LED Lighting Group comprises trademark Reflector Headlamps, Fog Lamps, and Daytime Running Lamps for enhanced visibility and style, while vibrant taillamps alert cars approaching from behind.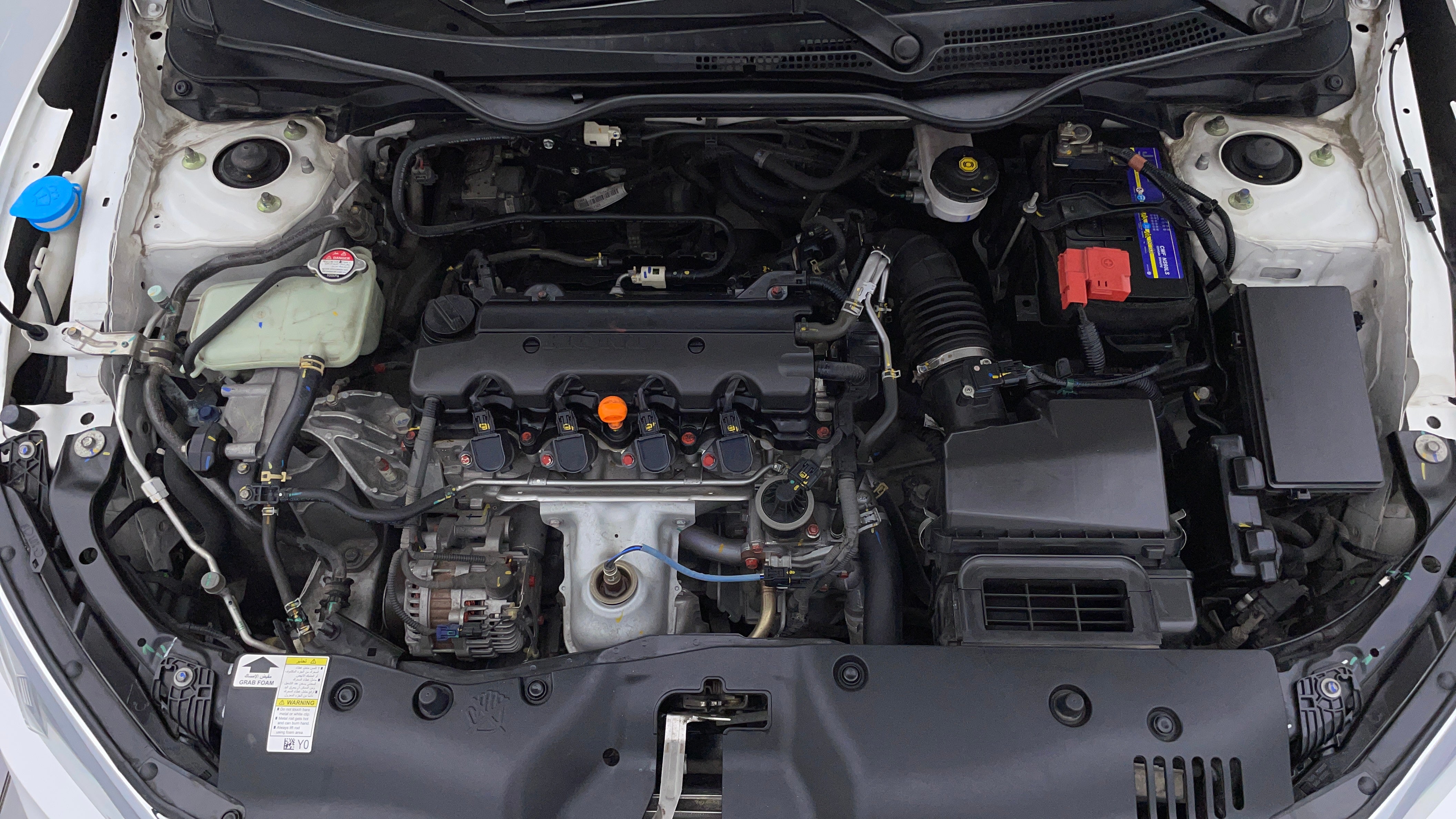 Fuel & Mileage
The Jeep Wrangler's fuel mileage is impressive, boasting a 70-litre fuel tank and an average consumption of 11 liters for every 100 kilometers. This means that filling up the 3.6L V6 Sahara 2-door is a cost-effective choice, especially for an adventurous SUV.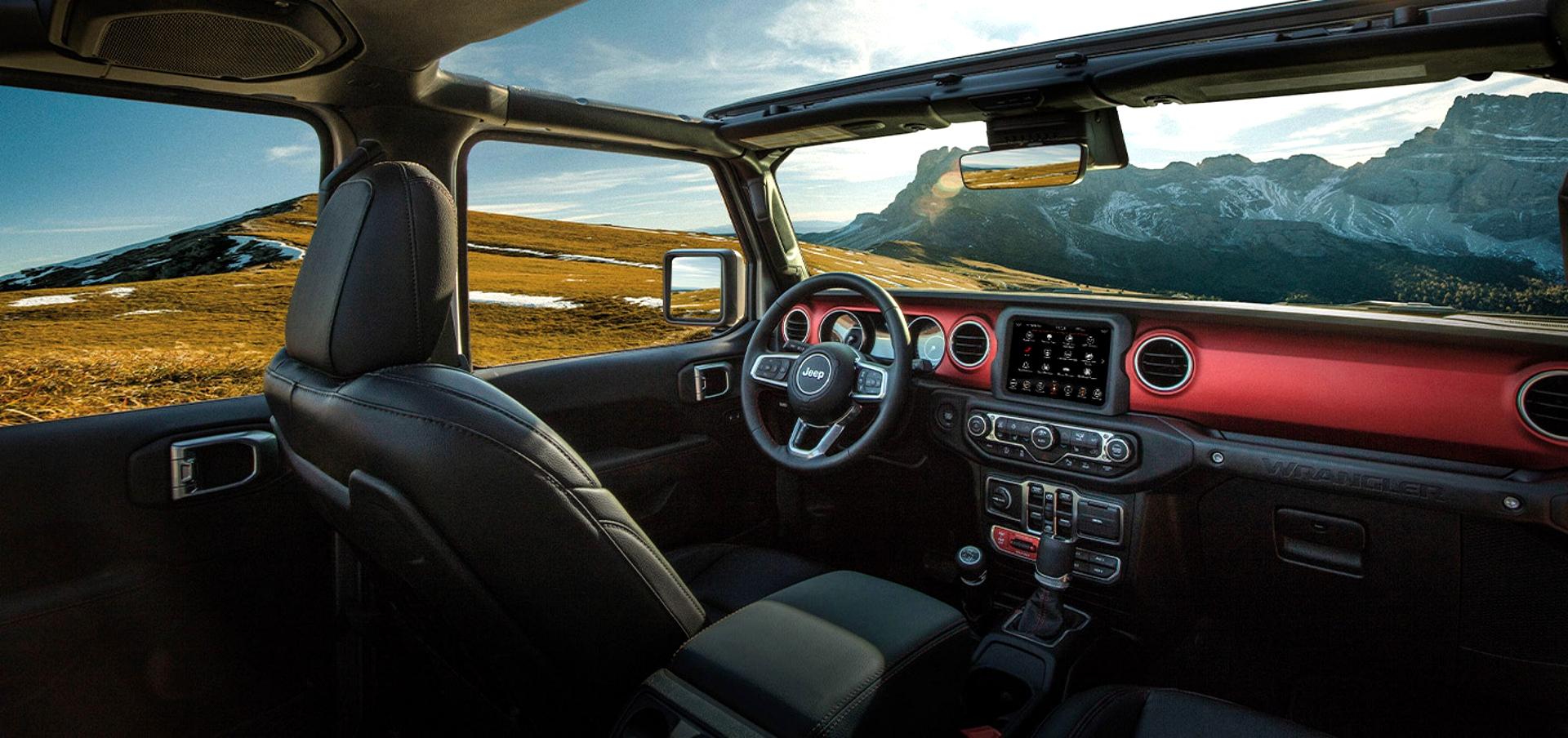 Safety & Security
To keep you aware of your surroundings, the Jeep Wrangler has innovative safety technologies such as Blind Spot Monitoring, Rear Cross Path Detection, and ParkSense® Rear Park Assist System. Additional safety features include Forward Collision Warning with Active Braking, Adaptive Cruise Control with Stop and Go, and Automatic High-Beam Headlamps. The Wrangler's high-strength steel structure and modern airbag system offer additional protection, making it a top choice for individuals who value safety.
FAQ
What are the Safety Features Available in Jeep Wrangler?
What is the Engine Capacity of Jeep Wrangler?
What are the top variants of Jeep Wrangler?
What is the price of Jeep Wrangler?
There are several safety features on the Jeep Wrangler that ensure the safety of the occupants in an accident. Jeep Wrangler safety features are listed below:
Passenger Airbag
Side Airbag-Front
Child Safety Locks
Driver Airbag
Anti-Lock Braking System
Brake Assist
Crash Sensor
Engine Check Warning
Traction Control
Electronic Stability Programe
There are 2 engine options available in Jeep Wrangler. Wrangler Petrol version has an engine capacity of 3600 cc & 6400 cc.
The top spec new variant for Jeep Wrangler is 2023 Wrangler 6.4L Rubicon 392 (4-Door). Other variants of Jeep Wrangler are listed below:
Jeep Wrangler 2023 V6 Sport (2-Door)
Jeep Wrangler 2023 V6 Sport (4-Door)
Jeep Wrangler 2023 V6 Sahara (2-Door)
Jeep Wrangler 2023 V6 Rubicon X (2-Door)
Jeep Wrangler 2023 V6 Rubicon X (4-Door)
While the top spec variant Wrangler 6.4L Rubicon 392 (4-Door)costs at AED 359,900. Cost of other variants are listed below:
Jeep Wrangler 2023 V6 Sport (2-Door) - 189,900
Jeep Wrangler 2023 V6 Sport (4-Door) - 204,900
Jeep Wrangler 2023 V6 Sahara (2-Door) - 239,900
Jeep Wrangler 2023 V6 Rubicon X (2-Door) - 239,900
Jeep Wrangler 2023 V6 Rubicon X (4-Door) - 254,900
Used JEEP Models in Dubai UAE for sale :
We Lost You...
Slow or no internet connection
Please check your internet settings